Celebrating Democracy and the Values Upon Which It Is Built
January 18, 2017
As I sat quietly on the morning of Martin Luther King Jr. Day, my reflections were influenced by the Friday afternoon Buddy Day activities at school. The children, in mixed age groups (which is, in my opinion, SFDS at its best), spent the afternoon learning about this extraordinary man, his message, and the social movement that transformed a nation.
The students then discussed their own "values," and turned their ideas into visuals by making signs expressing what is important to them. Their touching comments about family, honesty, and integrity inspired nothing but confidence in how grounded in goodness they are. Moved by music, the entire school paraded through the hallways and convened in the gym for more singing and learning about how our country was changed by the courage and conviction of a man who raised up a set of values.
For the past few months, the faculty has been planning for how MLK Day might frame and inform the inauguration as our country prepares for another period of transition. Typically, inauguration days are used to teach about the democratic process. The tone and tenor that became the norm during this election has been an opportunity to reinforce how we want our community to interact, which differs from what the children have been seeing through the media.
As if on cue, President Obama provided the basis of our lesson plan in his farewell address last week. For those of you who have not heard or read his remarks, in addition to his moving expression of love and gratitude to his wife and daughters, the President outlined what it means, and takes, to be a democracy.
"Understand, democracy does not require uniformity. Our founders quarreled and compromised, and expected us to do the same. But they knew that democracy does require a basic sense of solidarity – the idea that for all our outward differences, we are all in this together; that we rise or fall as one."
This statement can be a model for how we educate children at SFDS. We invite differences and an array of well-considered and informed opinions and we discuss them with the understanding that we share common goals and embrace that we are "all in this together."
The President went on to provide us with a primer for critical thinking, another hallmark of the SFDS curriculum.
"Politics is a battle of ideas; in the course of a healthy debate, we'll prioritize different goals and the different means of reaching them. But without some common baseline of facts; without a willingness to admit new information, and concede that your opponent is making a fair point, and that science and reason matter, we'll keep talking past each other, making common ground and compromise impossible."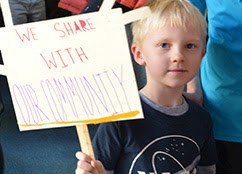 The President's call to finding common ground, while acknowledging and honoring differences, is a lesson for us all. I appreciated, was moved by, and will take my cues from the President's clarity about race.
"There's a second threat to our democracy – one as old as our nation itself. After my election, there was talk of a post-racial America. Such a vision, however well-intended, was never realistic. For race remains a potent and often divisive force in our society. I've lived long enough to know that race relations are better than they were 10, or 20, or 30 years ago – you can see it not just in statistics, but in the attitudes of young Americans across the political spectrum. But we're not where we need to be. All of us have more work to do."
At SFDS we acknowledge and embrace that there is indeed more work to do - that is our purpose and the reason we exist as a school. As the nation makes a transition this week, our primary goal at SFDS is for the students to feel safe. We want SFDS to be a sanctuary of civility. We are going to use the inauguration as an opportunity to better understand what it means to be a democracy and to celebrate our freedoms, to respect our differences, and embrace the work and common goals ahead of us.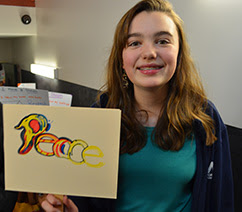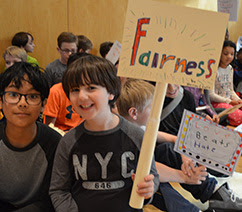 As I have shared with the faculty during our preparation for the inauguration, there has never been a more important time to be an educator. Our responsibility is to shape a generation that cares for each other and our world in a manner that expresses the values the students rallied around last Friday. Witnessing our students' enthusiasm and actions on Buddy Day filled me with inspiration and confidence in your children, and this sense of optimism was also expressed by President Obama during his farewell remarks.
"That's why I leave this stage tonight even more optimistic about this country than I was when we started. Because I know our work has not only helped so many Americans; it has inspired so many Americans – especially so many young people out there – to believe you can make a difference; to hitch your wagon to something bigger than yourselves. This generation coming up – unselfish, altruistic, creative, patriotic – I've seen you in every corner of the country. You believe in a fair, just, inclusive America; you know that constant change has been America's hallmark, something not to fear but to embrace, and you are willing to carry this hard work of democracy forward. You'll soon outnumber any of us, and I believe as a result that the future is in good hands."
As educators and parents, the role we play in the lives of the next generation is our call to action.